Ah, the Lower Mainland and Greater Vancouver area. Our stunning landscapes are breathtaking, but they come paired with the reality of our ever-present rain. While many view the constant downpour as a downside, businesses have a unique opportunity: branded rain gear. Here's how your company can make the rainy season work to its advantage.
Visibility All Year Round
Rain might be a common occurrence here, but life doesn't stop. People still commute, run errands, and spend time outdoors. Branded rain gear ensures that your brand remains visible even during the heaviest downpours. Every time someone pops open a branded umbrella or dons a rain jacket with your logo, your brand gets showcased throughout the city streets.
Functional & Fashionable
No one likes to get drenched, which makes rain gear essential. But who said functional can't be fashionable? Offer stylish rain gear that not only protects but also looks good. Modern designs combined with your brand can turn anyone wearing or using your rain gear into a walking advertisement.
An Unexpected Marketing Tool
While many businesses invest in conventional advertising, branded rain gear offers an unexpected yet effective marketing tool. It stands out, makes an impression, and often sparks conversations. Think of it as a functional business card that keeps on giving.
Foster Goodwill & Loyalty
By offering high-quality branded rain gear, you're not just promoting your company; you're also showing that you care about the well-being of your clients, employees, and potential customers. It's a gesture that fosters goodwill, loyalty, and a sense of belonging.
Eco-friendly Options
The eco-conscious movement is growing, especially in our region. Opt for eco-friendly rain gear options, which can further enhance your brand's reputation. Sustainable choices not only protect us from the rain but also safeguard our beautiful environment.
The Rainy Bottom Line
With the rainy season in full swing, there's no better time to invest in branded rain gear. Turn the dreary weather into a marketing advantage. And when it comes to quality, customization, and delivery, remember, "We're committed to ensuring our clients receive exactly what they want, when they want it, and precisely how they envision it."
So, why wait for the storm to pass? Make a splash now. Contact us today and let's gear up your brand for the rains!
Skyline Two-Tone Inversion Umbrella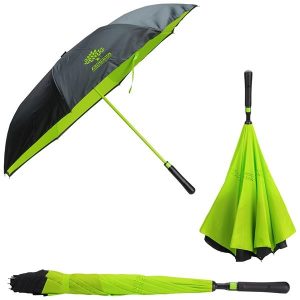 Gift your valued clients the sleek Skyline umbrella, a symbol of your brand's attention to detail and commitment to quality. With its unique inversion closure mechanism, vibrant two-tone canopy, and ergonomic rubber-grip handle, this umbrella stands out even in the stormiest weather. Ensuring your brand makes a memorable splash in the Rainy Lower Mainland by ordering this on our
website
today!
Polyester Backpack Rain Cover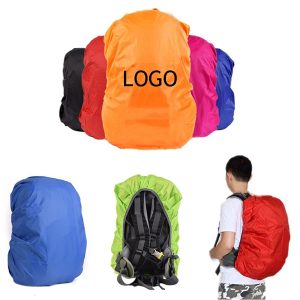 Elevate your brand's visibility
with our high-quality polyester cover, perfectly designed to shield 30L-40L bags from the elements. Whether it's for outdoor adventures or as a handy water container, this versatile cover, adorned with your logo, makes a thoughtful branded gift for your clients. Discover more and place your order on our
website
– let your brand be a beacon of protection and innovation!
Outdoor travel Rainwear-Ponchos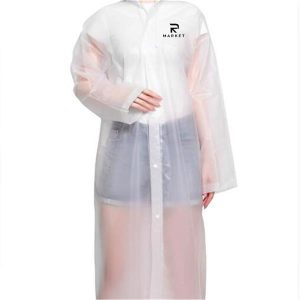 Keep your clients dry and your brand top-of-mind with our 100% waterproof EVA ponchos, tailored to fit most adults with ample 47″ x 27″ coverage. Available in an array of colors, each poncho can be customized with your brand logo, making them ideal for tradeshows, concerts, and outdoor events. Dive into the variety and place your order on our
website
, ensuring your brand shines, come rain or shine!
Waterproof Pet Shoes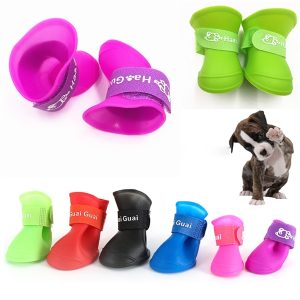 Treat your clients' furry friends with our Waterproof Pet Shoes, crafted from high-quality PVC material to ensure paws stay dry and floors remain scratch-free. These rain-proof, skid-proof shoes are perfect for both indoor and outdoor use, available in three sizes (S, M, L) with a guide to ensure the perfect fit. Visit our website to customize with your logo and order the ideal gift that's paw-sitively perfect for every pet lover!