Trade workers are the backbone of any successful construction, repair, or renovation project. They represent skill, dedication, and reliability. While the quality of work is paramount, the way these workers present themselves also plays a critical role in influencing a company's image and credibility. That's where company-branded apparel comes in. Here are five compelling reasons why trade workers should don company-branded attire:
Fostering Camaraderie: Just like sports teams wear uniforms to feel united, branded apparel can foster a sense of camaraderie and unity among trade workers. It instills a feeling of belonging and pride, reminding workers that they're part of a bigger mission and a cohesive team. This unity often translates to improved collaboration on-site.
Standing Out in the Crowd: Branded apparel ensures that your workers stand out. Whether they're on a busy construction site or repairing a home, it becomes easy for anyone to recognize and differentiate your staff from others. This clear distinction not only boosts the professional image but also ensures safety, as workers are easily identifiable.
Boosting Brand Awareness: Every time a trade worker dons your branded apparel, they become a walking advertisement for your business. It's an effortless way of promoting your company's name, logo, and services, helping in solidifying your position in the marketplace.
Enhancing Customer Service: When workers wear company-branded attire, it immediately adds a layer of professionalism to their appearance. Customers can quickly identify representatives of your company, making interactions smoother. Moreover, it instills trust, letting the customer know that they're dealing with a legitimate and professional entity.
Promoting Professionalism: A branded uniform is not just a piece of clothing but a reflection of your company's standards and values. When workers wear it with pride, it speaks volumes about the level of professionalism and dedication they bring to their job, leaving a lasting impression on clients and competitors alike.
Choose Leading Edge Promo for Your Branding Needs
As you consider the multitude of benefits of branded apparel, let Leading Edge Promo be your trusted partner in this endeavor. We understand the nuances of the trade and construction industry and are equipped to provide apparel that's not only high in quality but also represents your brand perfectly.
Remember, at Leading Edge Promo, we're committed to ensuring our clients receive exactly what they want, when they want it, and precisely how they envision it. We await an enriching partnership with you. Reach out to us today and let's elevate your brand together.
Products exclusively chosen for workers in Construction and Trades
Hi-vis Full zip Polyester Fleece Hoodie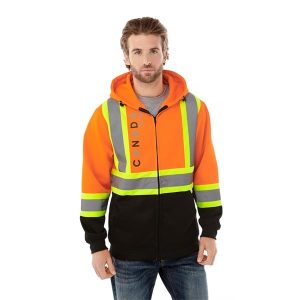 Boost your brand's visibility with our hi-vis polyester fleece hoodie, designed specifically for trade workers. With features like a 4″ reflective band, adjustable shock cord, and compliance with CSA standards, it's the perfect blend of safety and style. Dive into details and place your order on our website today. #SafetyMeetsStyle
Two Tone 6 Pocket Surveyors Vest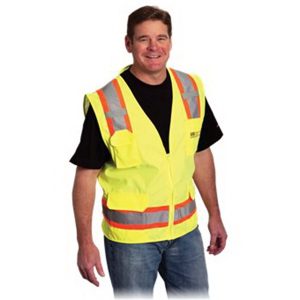 Elevate your workers' attire with our ANSI/ISEA 107 Class 2 vest, tailored for optimum visibility and durability. Crafted from polyester with a breathable mesh back, this vest offers multiple pockets and sizes up to 5X, ensuring functionality meets style. Dive deeper into its features and place orders on our website – where safety and branding unite seamlessly.
Evolution™ 6161 Full Brim Hi-Vis Hard Hat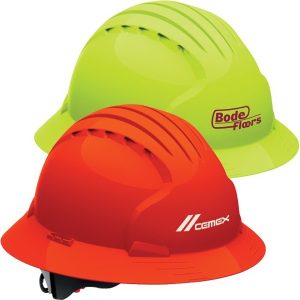 Equip your workforce with our high-density polyethylene (HDPE) shell helmet, designed to shield against various weather elements and ensure optimal comfort with its unique '3D Adjustment'. From sun exposure to snow, our helmet, featuring a 6-point suspension system and universal slots for accessories, is the epitome of safety and convenience. Dive into the details and secure yours now on our website – where top-notch protection meets impeccable branding.
XtremeDry® Breathable Rainpant – Yellow Class 3 ANSI Hi-Viz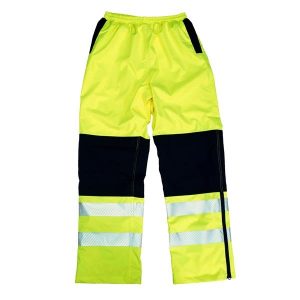 Imagine your team stepping onto the worksite, outfitted in our XtremeDry® Breathable Rain Pants, emblazoned with your brand's logo. Not only do these pants, made from durable Pongee Twill, offer exceptional waterproof and breathable protection, but they also serve as a walking testament to your company's commitment to safety and style. Visit our website now and transform these high-visibility pants into a branded asset for your business.
Ready to elevate your brand? Fill out our 'Start Here' client interview form and let us get to know you and your unique needs.
Let's make your branding dreams a reality!