Ah, accountants! The unsung heroes of the financial world. You make sure businesses don't sink into the abyss of unchecked expenses and missed financial opportunities. But, while you're mastering the art of numbers, there's something else that can boost your image in the eyes of your clients: branding!
Yes, we're talking about those chic pens, eye-catching notebooks, and classy leather folders that scream professionalism. Let's explore why branding is the secret sauce for accountants and how it can make their practice even more fun and engaging!
Elevate Your Professional Presence
Imagine walking into a high-stakes corporate meeting. As you lay down your branded leather folder, it subtly yet surely commands attention. It's not just any folder; it's a representation of your dedication, professionalism, and the premium services you offer.
Consistent Visibility – Beyond The Spreadsheet
Did you gift that sleek, branded pen to your client during the last tax season? They might be using it right now, while finalizing a deal or signing off on a big project. Each time they do, they're reminded of your expertise and precision.
Strike Up a Conversation
Ever had a moment when someone asked, "Hey, where did you get that cool calculator?" Now imagine if that calculator carried your brand's logo. Not only are you starting a conversation about your cool gear, but you're also initiating potential future business chats!
Build Trust, One Branded Item at a Time
Every time your client sips coffee from that mug you gave (yes, the one with your logo), or when they scribble notes in a meeting using your branded notebook, they're subconsciously reinforcing their trust in you. It's branding magic!
Branding in Action: The Accountant's Way
Let's envision a day in the life of a branded accountant: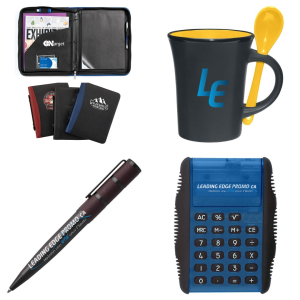 * Morning coffee in a branded mug, a subtle reminder of your services as it sits on numerous clients' desks.
* Client meetings with a branded notepad. Every note you jot down resonates with your brand's identity.
* Presentation time? Slide out those reports from a chic, branded leather folder.
* Need to crunch some quick numbers? Your branded calculator is at the ready, impressing everyone around the table.
* As you leave, hand over a branded pen to your client. It's not just a writing tool; it's a statement.
Accountants, it's time to add some fun to your numbers game. Branded items are not just objects; they're memories, statements, and tools that keep your brand alive in your client's mind. So, the next time you think about branding, remember it's not just about logos and colors; it's about creating a lasting impression.
After all, why should marketing companies have all the fun with branding? Dive in, dear accountants, and let the world see you beyond the spreadsheets!
Ready to see your brand shine in every facet of your professional journey? Stay up to date with curated selection of branded products crafted exclusively for accountants. We'll keep you informed, inspired, and ahead of the curve by signing up for our emails. Let your brand do more than just speak; let it resonate. [Sign up now!]
Products exclusively chosen for the dedicated Accountancy Professional
1. Harrison Portfolio – Large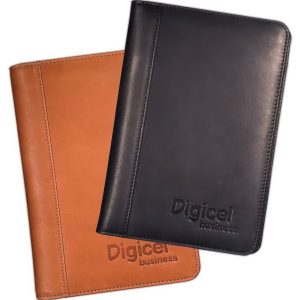 A branded leather folder not only exudes
professionalism and sophistication for accountants
during client meetings, but when gifted, it serves as a lasting impression of their
dedication to precision and excellence.
This timeless piece, bearing the accountant's logo or brand, becomes an everyday essential that seamlessly
marries functionality with brand visibility
!
Sueded full-grain Leather portfolio with perimeter stitching accents. Interior pocket and pen loop. Includes a 5″ x 8″ ruled notepad with approx. . Deboss your company logo on the front and increase awareness of your business!  Portfolio also has an interior pocket and pen loop and includes a ruled notepad with approx. 40 sheets.  Junior portfolio comes with a 5″ x 8″ notepad. Large portfolio comes with a 8 1/2″ x 11″ notepad.
2. 
Flip Calculator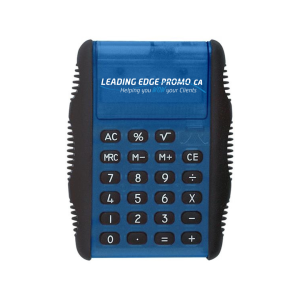 Cover Opens Automatically Upon Pushing Switch.8 Digit Display.Soft Touch Keys And Side Grips For Ultimate Comfort.Battery Included.
In an age of digital multitasking, a standalone calculator offers focused and distraction-free arithmetic. Branding a calculator not only presents a company as a practical problem-solver but also ensures consistent visibility each time calculations are made, cementing the brand's presence in daily tasks.
3.
Domain Pen With Highlighter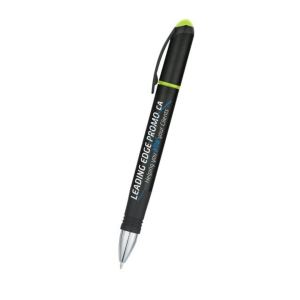 Twist Action. Ballpoint Pen With Black Ink. Chisel Tip Yellow Highlighter. Rubber Grip For Writing Comfort And Control.
This multifunctional twist-action ballpoint pen combined with a yellow highlighter embodies efficiency, mirroring an accountant's versatile skill set. Gifting such a practical and branded item reflects thoughtfulness and understanding of the profession, ensuring the recipient feels valued while simultaneously elevating the brand's recognition. Let us help you WOW your clients!
4.
12 Oz. Spooner Mug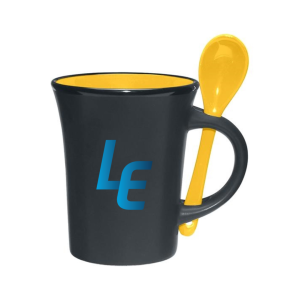 A mug with a removable matching spoon epitomizes convenience and attention to detail, echoing the precision that accountants are known for. As a branded gift, it not only provides a daily utility for sipping and stirring but also serves as a constant, warm reminder of the brand every coffee or tea break.
Ready to elevate your brand? Fill out our 'Start Here' client interview form and let us get to know you and your unique needs. Let's make your branding dreams a reality!