Whether you're ready or not, the holidays are just around the corner, which means now is the time to start planning your corporate holiday gift giving. And whether you're planning on gifts for customers, partners, employees, or all three, gift baskets almost always make a lovely option.
In our experience, gift baskets can often make the best business gift. Here's why you should consider corporate gift baskets this year, plus some great ideas to get you started.
Corporate Gift Giving
Believe it or not, businesses give out $125 billion in corporate gifts each year (that's 'billion' with a 'b'). Not surprisingly, a lot of this gift-giving is done during the holidays. Coming at the end of the year, the holidays offer a nice opportunity to thank your clients and employees for another year of support and service.
So does that mean you should just send a card and gift certificate? Of course not (although never underestimate the importance of a hand-written message), especially since many corporate policies prohibit employees from accepting gift cards. But regardless, presentation matters, and gifts should be memorable and personalized.
In fact, one survey of more than 1000 people who received business gifts found that 57% of recipients said "gifts can impact their opinion of a business partner both positively and negatively" (source).
The same survey found that 94% of executives believe gift giving is important to business success, in part because it helps humanize their business. 80% of C-suite executives even think corporate gifts generate measurable ROI.
So it's no surprise that over 60% of businesses send corporate holiday gifts each year.
Why Choose Corporate Gift Baskets?
There are many reasons why we often recommend holiday gift baskets to our clients.
First up? Everyone loves them! When your basket is filled with yummy treats, you're ensuring that it will get used and be appreciated. They tend to last a while, and your generosity will be remembered each time they're used. They also tend to get shared around the office, hopefully leading to great conversations about your generosity and great service.
Moreover, gift baskets can make beautiful presentations that can incorporate your brand tastefully – all within any budget.
Plus, they're easy! Especially when you work with a promotional consultant, you can be sure to get a tasteful basket that presents your company in the best possible light.
Corporate Gift Basket Ideas
When it comes to corporate gift baskets, the sky's really the limit. Here are just some of our favourite offerings this year:

Celebrate the Season Gourmet Sweets & Treats Tower
Definitely something for everyone! Share the joy this season with a 13″ tower that comes bearing delicious gifts for everyone on your list. This great corporate holiday gift includes chocolate truffles, caramel popcorn, almond cookies, peanut crunch, berry nut mix, dark chocolate covered almonds, chocolate hazelnut filled cookies, and white frosted pretzels.

Deluxe Holiday Goodies & Glitz Gift Box
Incredibly attractive but also affordable, each recipient will find a delicious assortment of white frosted pretzels, dark chocolate covered almonds, berry nut mix, and chocolate almond toffee, all packaged inside a beautiful gift box. Add an imprinted company name or logo to create a classy advertisement for your brand.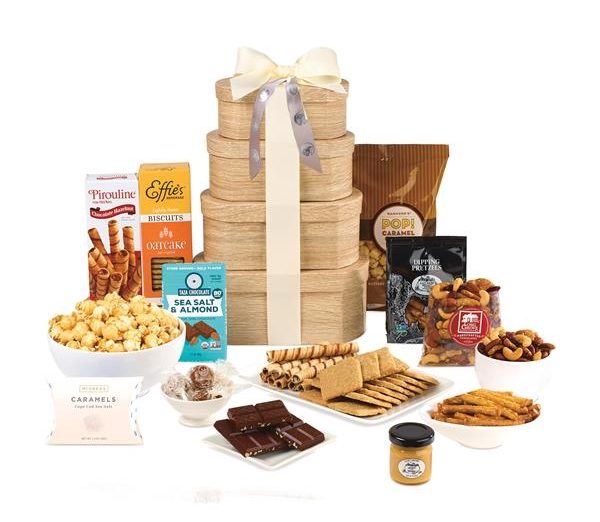 Simply D-Lish Gourmet Tower
Artisanal gourmet foods take center stage in this 13″ tall tower perfect for anyone and any occasion.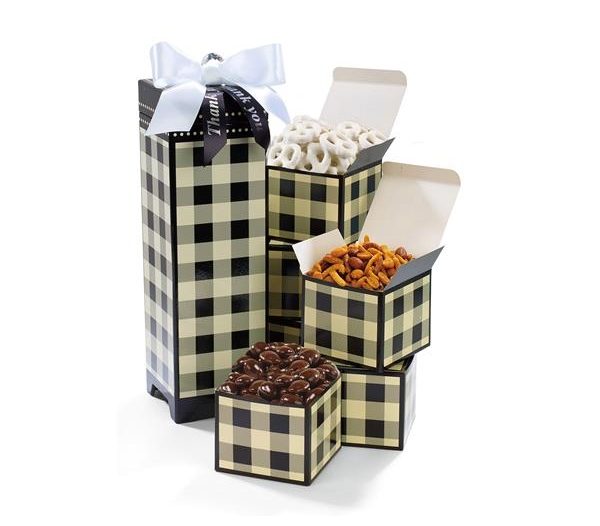 Many Thanks Gourmet Keepsake Box
Show your appreciation in a "sweet" way with this gourmet gift! Nestled inside a stylish plaid 13″ keepsake box are three handsome packages filled with delicious treats to share and enjoy. Contents include milk chocolate pretzels, savory snack mix, and almond powdered sugar cookies. Customize each gift with a company name and logo to transform it into the perfect holiday corporate gift.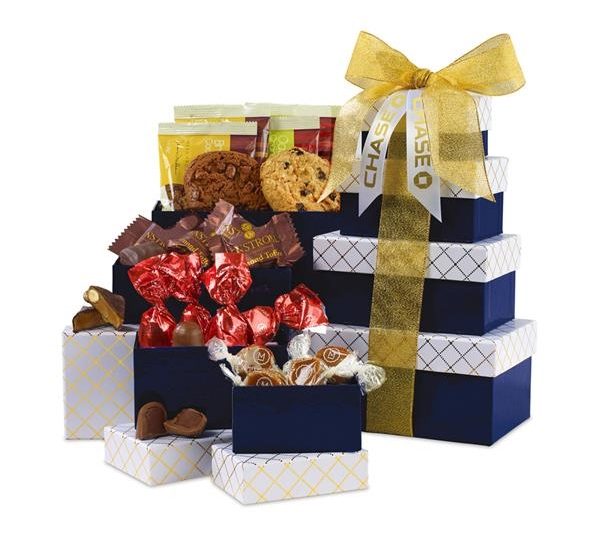 Sweet Tower of Individually Wrapped Treats
This corporate gift features 16 individually wrapped goodies, including chocolate truffles, almond toffee, sea salt caramels, and brownie and oatmeal cranberry soft baked cookies. Yum.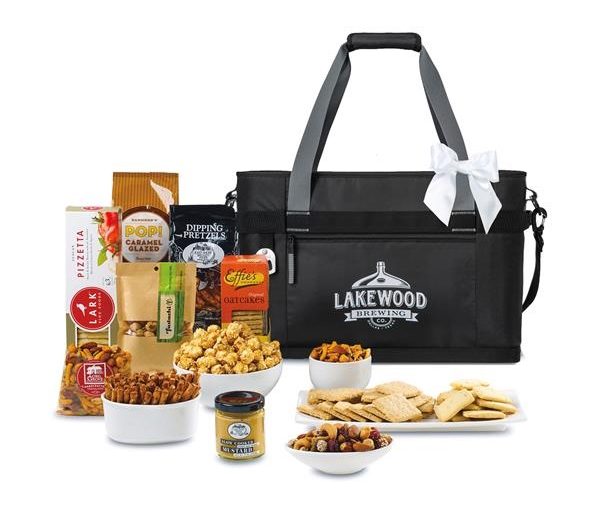 Downtime Days Dumont Gourmet Cooler
By including a high-quality cooler, this gift basket ensures you'll be remembered fondly all year long.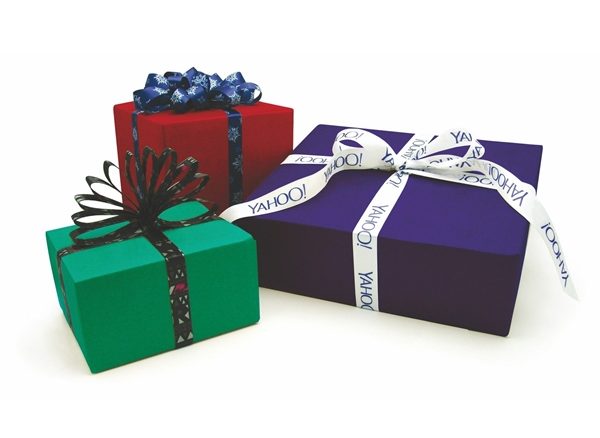 Sublimated Holiday Ribbon
Or perhaps you know exactly what gift will be perfect for your employees or customers, and you'd just like to add a tasteful brand touch. This double-face satin ribbon is fully customizable to easily give your gift an extra "wow" factor.
Ultimately, when you work with an experienced promotional consultant, these baskets are just the tip of the iceberg, more inspirational than something you're locked into. Have a unique idea for a holiday gift basket? Or totally unsure where to start? We'll be more than happy to walk you through the process!
We care about finding you what you want, how you want it, when you want it, all within your budget. Contact us today to get started.