It seems like there are countless ways to advertise these days, but there's one marketing stand-by that is tried-and-true for a reason: branded merchandise.
Indeed, today's smart companies treat good branded merchandise as an investment for attracting more clients and boosting sales.
Keep reading to learn how the right branded merchandise plan can significantly boost your bottom line.
Why Use Branded Merchandise?
To be successful, companies need to find ways to connect with their clients and boost their brand awareness.Sometimes called 'merch,' branded merchandise is any product that is branded with either a logo or other identifying marker of a company.  When it's high quality, it's a very important piece of a company's branding tool kit.
In fact, recent research done by the British Promotional Merchandise Association proves just how effective good branded merchandise can be. Namely, their research found:
96% of recipients said that branded merchandise increased brand awareness
55% of respondents are more favourable to a brand after receiving a promotional gift
83% of people who receive branded merchandise can remember the brand for an average of 12 months.
79% of people who receive branded merchandise said they were likely to do business with the company
When you look at these numbers, it becomes clear that good branded merchandise is not a throw-away business expense. It's simply a smart business investment.
But of course, like all investments, it will only work if you have clear objectives, a good distribution plan, and high quality products.
How To Use Branded Merchandise to Attract More Clients
So how to specifically use branded merchandise to attract more clients?
First, it's always important to choose products that are related to your business. If you're an events company, wine glasses might make a better choice than a stainless steel adventure bottle. A zany emoticon stress ball might not be suited for a very serious legal office, which might do better with a granite paperweight.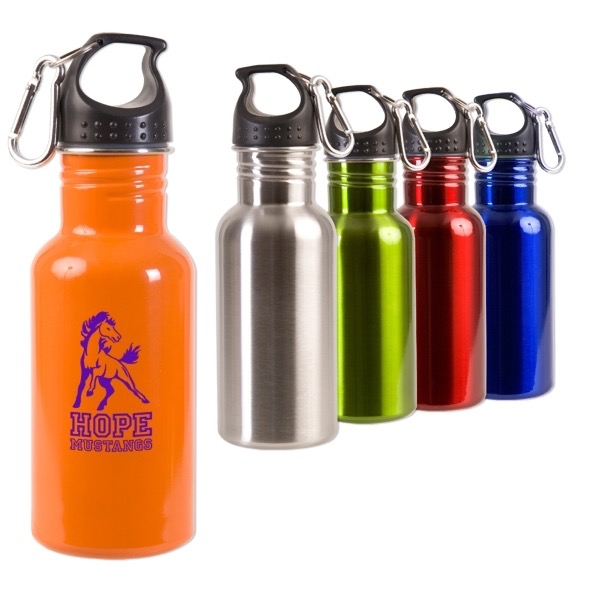 Outdoors company? Your potential customers would love an adventure bottle!
When it comes to finding just the right branded merchandise, the possibilities are almost endless, which is why working with a dedicated promotional consultant can be so beneficial.
To attract more clients with branded merchandise, have high quality items that you give away at meetings, exhibitions, conferences, networking events and tradeshows. Distributing merch face-to-face is a great way to make a connection, and also to vet your recipients, saving you money.
Consider creating a giveaway using your branded merch. Giveaways are quite popular on social media, and can be used to attract more customers. Or, use branded merch to get more signups for your email marketing list.
Don't forget the value of branded apparel. If you make beautiful clothes that people actually want to wear, then they'll become walking brand ambassadors. In fact, if people love your company and your fashions, they may even happily pay for the opportunity to share their enthusiasm.
Finally, you can also use high quality merchandise to create a referral program. A beautiful Soho gear bag, executive wine collectors set, Marmot puffer jacket or wheeled Ferraro tote might all be more tempting than the traditional finder's fee.
Ultimately, the best way to use branded merchandise to get more clients is to work with a promotional consultant who understands your business goals – and, just as importantly, how to implement them.
At Leading Edge Promo, you can rest assured that your campaign will get the attention and professionalism it deserves. Once we understand your budget and objectives, we work diligently to exceed your expectations in creativity, quality, and service.
Ready to get started? Please get in touch!